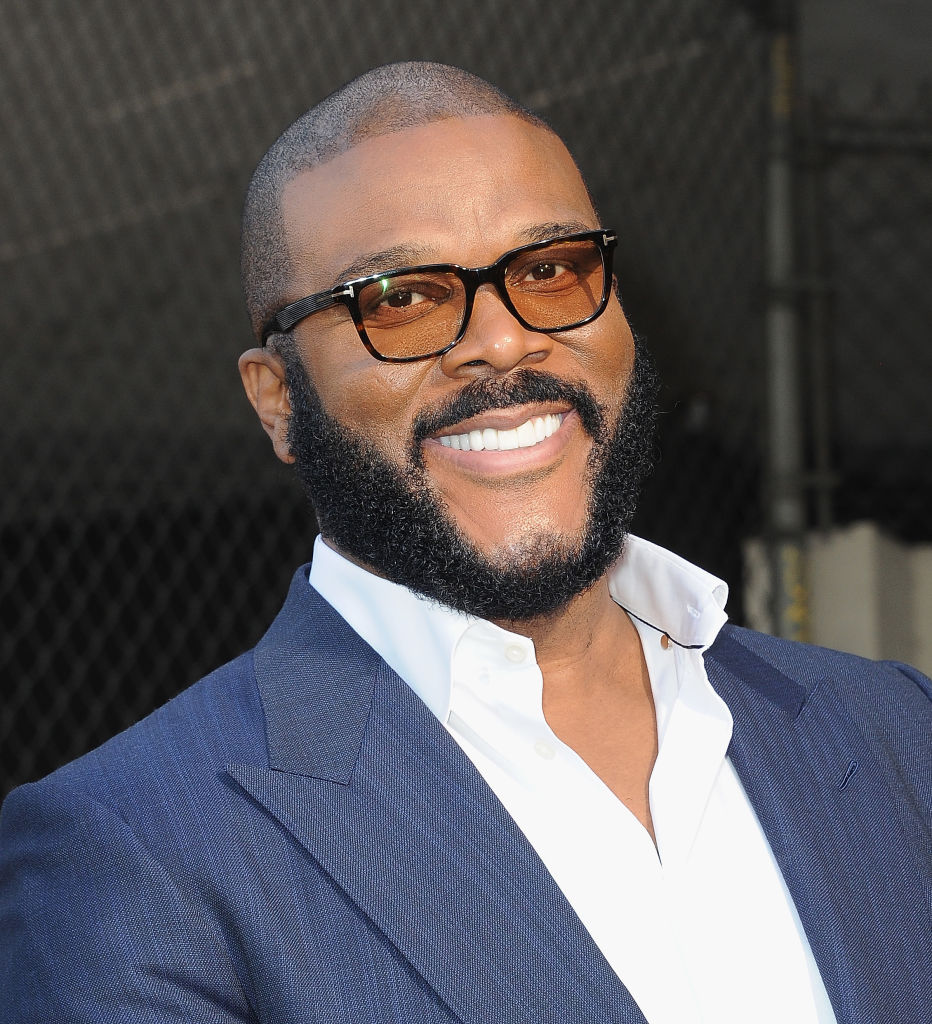 Article By: Devin Crudup Photo Credit: Getty Images
A-list celebrities including Oprah, Beyoncé, Jay-Z, and Colin Kaepernick attended the grand opening of Tyler Perry Studios in southwest Atlanta's historic district. Everyone gathered to celebrate Tyler Perry becoming the first Black entrepreneur to own a major movie studio without the backing of an established corporation. This could usher in a new era for Black entrepreneurship focused on self-sustainability, self-made independence, and alliance amongst Black entrepreneurs.
In a Bloomberg Markets interview, Perry spoke about the creative freedom afforded to him because of his self-made independence back in February 2018.
"So when I actually came to Hollywood and tried to do my first movie there and they were like, 'Ah, what is this? We're not doing this,'" Perry told Bloomberg Market's David Westin. "I was like 'Listen. I'm just going to go home and do it out of my trunk and, you know, sell it as DVD as I've been doing before.'"
A sure take-home message for Black entrepreneurs everywhere who face the all too familiar challenges of being rejected by investors who see no promise in their vision. The launch of Tyler Perry Studios could signal the start of a mainstream shift in the way Black entrepreneurs view the startup funding process.
In a heartfelt acceptance speech, Perry further drove home the importance of self-sustainability in Black entrepreneurship.
"While everybody was fighting for a seat at the table, talking about 'Oscars so white, Oscars so white' I said, 'Y'all go ahead and do that but while you're fighting for a seat at the table, I'll be down in Atlanta building my own,'" Perry said in the speech.
His words reflect the plight of many Black entrepreneurs who are locked out of industries due to the lack of investor funding and also speaks to a potential solution. He goes on to speak to the audience of Black creators.
"There are people whose lives are tied into your dream, own your stuff, own your business, own your way," Perry said.
The opening of Tyler Perry Studios is a turning point for an alliance among Black entrepreneurs and other Black leaders who hold influential platforms. Among the star-studded guest list U.S. Rep. Maxine Waters was also in attendance. The congresswoman has built her political career on standing up against the injustices of Black people and shows no signs of slowing down as she plans to support Perry from her seat in Congress.
In a celebratory letter, she wrote to Perry addressing her additional efforts to aid Black entrepreneurs via her development of the first Subcommittee on Diversity and Inclusion in the history of the U.S. Congress geared towards fighting for true diversity and inclusion in entertainment, media, and all other industries.
Perry himself has been vocal about the need for Black alliance in entrepreneurship and has made efforts to include Black talent in his work thus far.
"When I started hiring people like Taraji, and Viola Davis, and Idris Elba, they couldn't get jobs in this town, but God blessed me to be in a position to be able to hire them," he told the BET awards audience.
He also signed a new deal with BET to aid in the goal of developing relationships with more Black scriptwriters and producers set forth by BET's president, Scott Mills.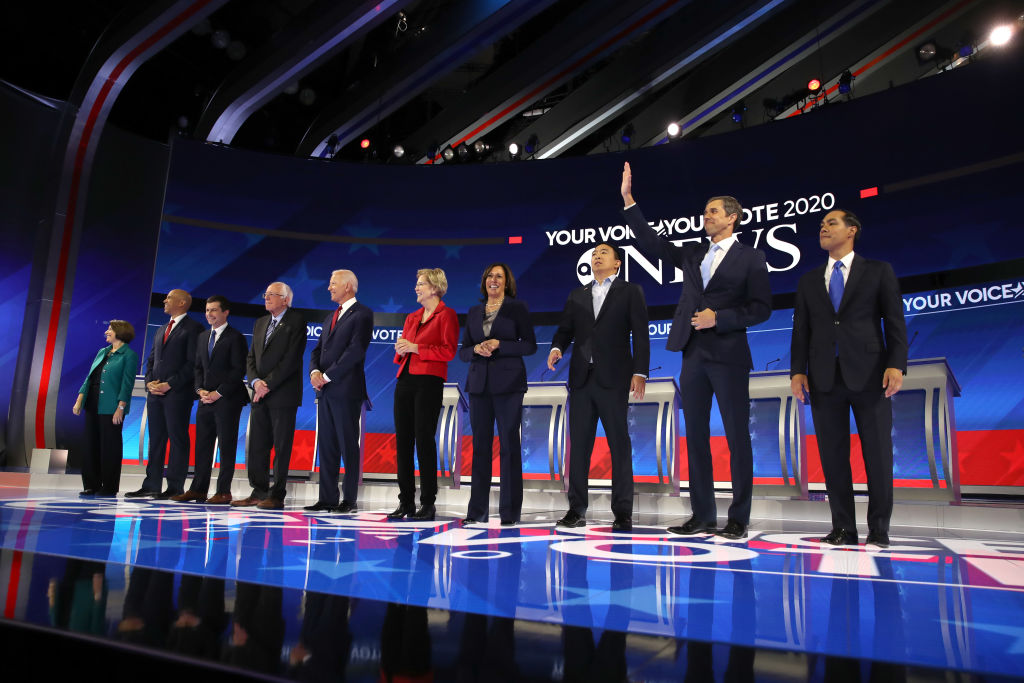 Article By: Devin Crudup Photo Credit: Getty Images
As Democratic candidates for the 2020 presidential election campaign to receive your vote, one topic is closing America's wealth gap via monetary support for Black-owned businesses. Here is an analysis of each Democratic presidential candidate and whether or not they've proposed a plan to boost Black entrepreneurship:
Sen. Cory Booker
The New Jersey senator wrote his plans to boost Black-owned businesses in an OpEd piece via BET. He proposed a $25 million funding investment in a nation-wide startup accelerator program for "geographically-underserved" communities. He wants to specifically target veterans, women, and people of color. Booker also wants to provide more capital for entrepreneurs in every community with a $1.5 billion investment in the State Small Business Credit Initiative (SSBCI).
In addition, to close America's racial wealth gap for young adults, he proposed a "baby bond" that would essentially be federally-funded savings accounts for every child born in this country.
Sen. Kamala Harris
Howard University graduate and current California senator, Kamala Harris revealed her plan to invest in Black entrepreneurship at this year's National Urban League Summit.
Harris proposes to invest $12 billion in federal grants for Black entrepreneurs and allow more access to capital through federal contracting programs. Black entrepreneurs will be able to apply for business grants through the Minority Business Development Agency. The presidential hopeful also plans to allocate $60 billion to STEM programs at HBCUs and other minority serving institutions.
Joe Biden
Boosting Black entrepreneurship hasn't been on the list of talking points for former Vice President Joe Biden. In fact, most topics surrounding monetary aid for Black people in America seem to be a struggle for Biden. For example, during the Democratic Primary Debate when asked about reparations, Biden steered his answer towards the unrelated topic of improving education for "very poor schools."
Sen. Elizabeth Warren
Sen. Elizabeth Warren revealed her plan via Medium to "level the playing field for entrepreneurs of color," which includes $7 billion in grants that will go towards funding entrepreneurs. The plan makes a point to provide grants and not loans to ensure that small businesses avoid racking up debt in the early stages of development. Its governing will mimic the SSBCI started by the Obama Administration, by giving states and municipalities the freedom to operate, but be held accountable by federal standards.
The plan will target Latinx, Black, and Native American entrepreneurs by limiting the grants provided to entrepreneurs who already qualify for the established 8(a) Business Development Program. The aim is to close the entrepreneur gap and allow more access to funding to entrepreneurs of color.
Sen. Bernie Sanders
Sen. Bernie Sanders is going for the presidency yet again, and although his official campaign site lists racial justice as an issue he plans to address as president, it doesn't give voters any details as to how he will close the wealth gap in America.
Beto O'Rourke
Beto O'Rourke laid out his plan to provide over half of trillion dollars of opportunities for women and businesses. According to his campaign website, he plans to transfer $100 billion of governmental large corporation contracts to women and minority-owned small businesses.
He will also create a public credit reporting agency that weeds out credit errors and racial disparities and raise the funding of the Minority Business Development Agency (MBDA) to $102 million annually.
He plans on supporting and maintaining 200,000 women and minority-owned small businesses by the end of his second term (if elected president) by weeding out racism and sexism in business investment markets.
Mayor Pete Buttigieg
As the current mayor of South Bend, Indiana, Pete Buttigieg announced his candidacy earlier this year. Since then he has revealed the details of his Walker-Lewis Entrepreneur Fund, named after Madam C. J. Walker and legendary businessman, Reginald Lewis on his campaign site. The fund's goal is to invest in entrepreneurs from underrepresented backgrounds. The plan includes a governmental co-investment of up to $10 billion within five years. Plus, a Debt-For-Jobs Plan to open doors for students to start businesses.
Mayor Buttigieg also plans to launch the Walker-Lewis promise, a strategy that will introduce an estimated $100 billion into urban and rural communities through awarding 25 percent of government contracts to minority businesses.
Sen. Michael Bennet
Micheal Bennet is a United States senator from Colorado. His official campaign website does not mention any future plans to fund Black-owned businesses. His campaign targets the issues of housing, healthcare, climate change, education, and political reform.
Gov. Steve Bullock
Gov. Steve Bullock's campaign slogan is "A Fair Shot For All." Economic inclusion made the list of priorities listed on his official campaign site. Details of his Economic Inclusion priority are plans to take steps towards growing and supporting minority-owned small businesses and entrepreneurs of color. His plan further explains that he will provide more capital resources to minority communities that are seeking to start a business via the Small Business Administration (SBA) and MBDA.
Bullock's plan does not mention the monetary amount he plans to allocate. Instead, he focuses on how much investing in entrepreneurs will cost the government. He estimates the cost of this initiative to be $1.2 million annually. His plan goes on to say an office of about ten people will be impactful for the Economic Inclusion priority.
Julián Castro
Julián Castro is the former mayor of San Antonio and former housing and urban development (HUD) secretary under the Obama Administration. Castro has not made an emphasis on closing the wealth gap or funding Black entrepreneurship. Issues listed on his official campaign site that he plans to address include housing, combating white nationalism, and gun violence.
John Delaney
John Delaney is a former House Representative for Maryland's sixth Congressional District. According to his campaign site, he plans to commit to Black America by ensuring that Black entrepreneurs have access to capital. For example, this could mean creating a new SBIC program that will focus on venture capital investments. His site also lists supporting startup accelerators and incubators at HBCUs via federal grants.
Tulsi Gabbard
The congresswomen from Hawaii and former Army National Guard veteran has not addressed the issue of allocating funds to Black business owners. According to her campaign site, some of the issues she will focus on are healthcare for all, protecting women's rights, and holding Wall Street accountable.
Sen. Amy Klobuchar
According to her official campaign site, Sen. Amy Klobuchar plans on strengthening the MBDA by making sure it has the resources it needs. This issue is listed in the Minnesota senator's plan for her first 100 days as president.
Mayor Wayne Messam
Wayne Messam currently serves as the mayor of Miramar, Florida. According to Wayne For USA, Mayor Messam plans to invest in training entrepreneurs and provide entrepreneurship as an alternative route for college. He owns Messam Construction and served as chair of the Broward County Small Business Development Advisory Board for two terms.
Although Mayor Messam is a business owner himself, he isn't very vocal about his plans to aid Black entrepreneurs if he becomes president.
Tim Ryan
Congressman Tim Ryan has served as a House Representative for Ohio's 13th district since 2003. Tim Ryan For America lists Decentralizing Economic Opportunity as an issue he plans on addressing as president. His plan of attack does not specifically spotlight Black entrepreneurs, but instead focuses on expanding VC investment for distressed communities. His official campaign site reports his plan to create the Distressed Community Investment Agency (DCIA) to carry out providing VC funds.
Joe Sestak
Joe Sestak is a retired Navy admiral and former representative of Pennsylvania. Sestak's official campaign site showcases the presidential hopeful's strategy of permanently waiving the two percent loan guarantee fee imposed by the Small Business Administration (SBA). The site highlights that 80 percent of minority loan applications are for $150,000 or less, and by waiving the loan fee, there could be an increase in small business loans.
Tom Steyer
Tom Steyer's official campaign site reports he is a self-made billionaire who denounced his head position at his investment firm to focus on politics and philanthropy. In an interview with TechCrunch, Steyer spoke on his plan to make funding more accessible to Black and Latinx startup founders. He explains that he and his wife started Beneficial State Bank as an alternative to big banking institutions. The bank's profits go towards investing in minority-owned businesses, providing space for art, educating the youth, and a host of other philanthropic endeavors. According to TechCrunch, if elected president, he will implore the same strategy to boost entrepreneurship.
Marianne Williamson
Marianne Williamson has not spoken on closing America's racial wealth gap via Black entrepreneurship. Her campaign site explains her extensive reparations plan calling for over $200 billion to be paid over 20 years.
Andrew Yang
Andrew Yang is the Founder of Venture For America, a nonprofit that focuses on providing and creating jobs. Yang hasn't addressed the topic of boosting Black entrepreneurship. However, his campaign site, Yang2020, addresses the need to crack down on delays in small business payments and by doing so, leveling the playing field against big corporations.